I am sure some of you are wondering, why am I blogging about Osaka and not my trip to Chicago and Orlando, Florida. Well It's like this, I blog when the feeling comes to me, and I just had a nice warm bath, followed by a cup of hot Japanese roast tea while typing this to you guys. So I did say it's a good mood to be sharing about my first night experiencing Osaka, Japan.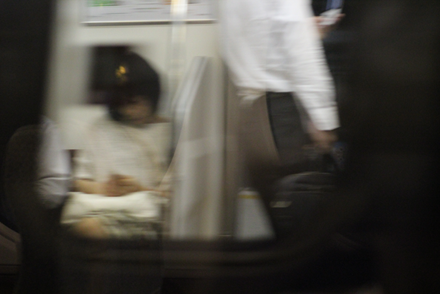 We were on a train from the airport to the hotel and I decided to play around with my Canon EOS 600D and it's shutter speed. I have always wanted to take pictures such as the one above, because I was inspired by one of the photographers who had his work on the magazine of Black & White Photography. I know it might not be that good of a picture, but I am pretty contented with the outcome.
Hungry we were, we headed out for dinner right after leaving our luggage in the hotel rooms. And thankfully my boyfriend knows the place quite well enough to bring us to where we can find good cheap Japanese food! And boy was the Char Siew Ramen with Shoyu base soup heavenly! Apart from the very fatty char siew meat, I must say that was a pretty darn good bowl of ramen and it beats anything you can find in Singapore at the same price of S$10. If you tell me Singapore's Ajisen I will slap you..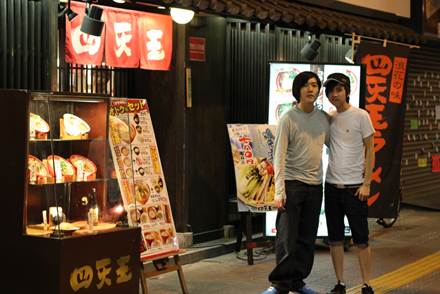 Now finally a picture of my
彼氏
and me outside the Ramen store we had our dinner at. Those of you who are in the customer service line and suck at it, please visit Japan and learn a thing or two. Thank you. Even though I myself have been in the customer service line before, and I did a pretty good darn job at it mind you, I still feel that I am not good enough if I were to compare myself with the people in Japan.
Lovely people, streets and country. And this is only our first night, wait until you hear from me when I come back from Universal Studios Osaka..